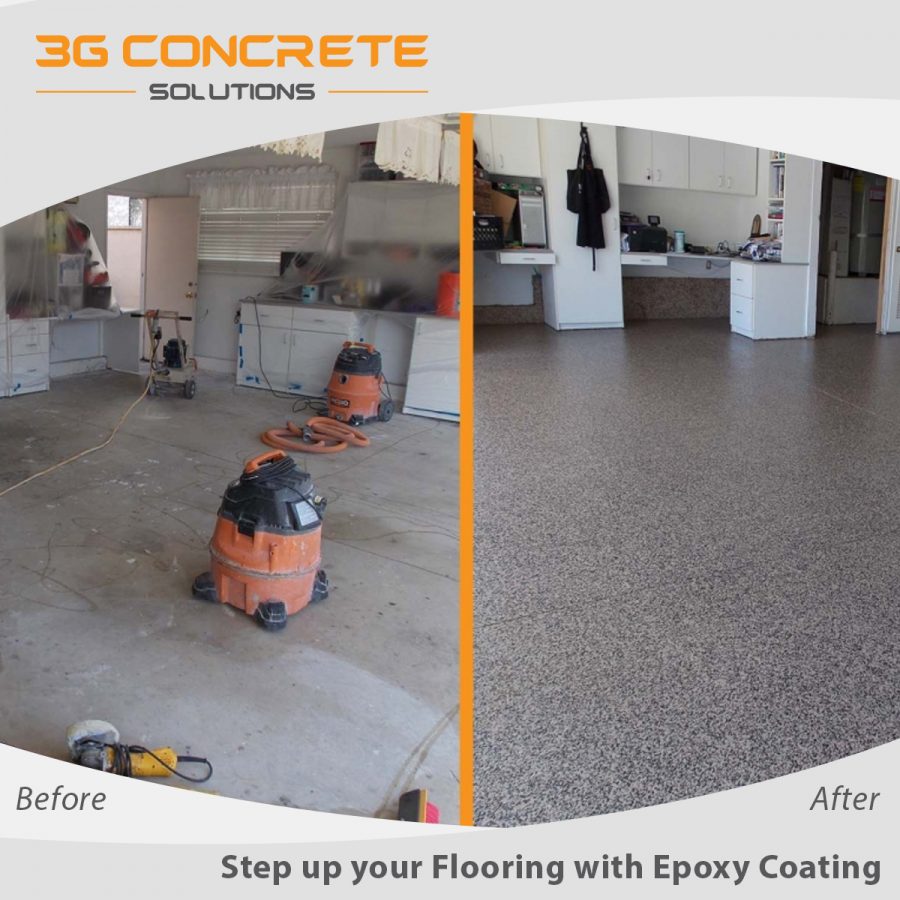 Step up your Flooring with Epoxy Coating
Cement flooring has been the choice for many years because of its reputation for durability and strength. However, after withstanding all the heavy traffic, spills, and abrasions, cement flooring eventually becomes very unattractive, impossible to clean, and unsafe. Epoxy Coating hasn't been around as long as cement flooring but is gaining popularity fast. Not only does epoxy coating look better, it has all the benefits that concrete flooring has plus more.
Cement flooring has big drawbacks that you should consider before choosing this typical floor option over an epoxy coating.
Unattractive: Who cares? It's just the storage warehouse, the garage, the hanger, whatever it may be no one ever cared for other options because "no one will see it anyways" so they already expect these spaces to be unsightly. Do consider that over time, the marks, spills, and cracks will truly make that private or commercial space unbearable.
Hard: Concrete flooring is very hard and falling onto it can seriously injure people. Dropping something on this kind of flooring ensures its destruction along with subsequent cracks onto the cement.
Slippery: I'm sure we've all slipped on concrete at one point in our lives. We probably blamed it on the old shoes or the banana peel on the floor but the true culprit was the concrete floor. When concrete is polished, buffed, or finished off with a gloss sealer, the surface is very slippery. Hospital bills and time wasted recovering will definitely make one reconsider cement flooring as an option.
Susceptibility to moisture: If concrete flooring is not properly sealed on the top and bottom, moisture can easily get in. In humid conditions, once the liquid makes it's way into the cement it can lead to mold or mildew. When it is too cold and the entrapped moisture freezes, it will cause the cement to crack. These consequences has to be one of the biggest drawbacks of concrete flooring.
Benefits of Epoxy Coating
Epoxy coatings are extremely resistant to chemicals and abrasions, adhere to concrete surfaces very well, and are non-volatile. Epoxy coatings can be placed over new or old cement. Epoxy cement overlay can be used as a filler for small cracks or to smooth uneven spots in the old cement.
Epoxy coatings have a clean, glossy finish that gives beauty to the entire space while protecting the surface underneath. Professionally installed epoxy coating on cement will prevent moisture, dirt, and debris from penetrating into the cement preventing molds and fungi from growing.
There are many epoxy flooring options and styles to choose from but the best type is the non-slip coating. This is particularly important in places like garages, hospitals, and industrial facilities where there is high foot traffic and the possibility of injury due to slipping is inevitable. The textured surface of epoxy provides the safety needed in any setting.
With all the pros epoxy flooring has over cement, it should be the only choice and should be a standard due to its variety of benefits in terms of safety and functionality.
Just give us a call at (714) 499-7386 and we'll be happy to point you to the right direction whether you hire us or not. Be sure to check out our happy clients on Yelp! We service Irvine, Tustin, Santa Ana, Costa Mesa, Aliso Viejo, Mission Viejo, Newport Beach, and all other neighboring cities.