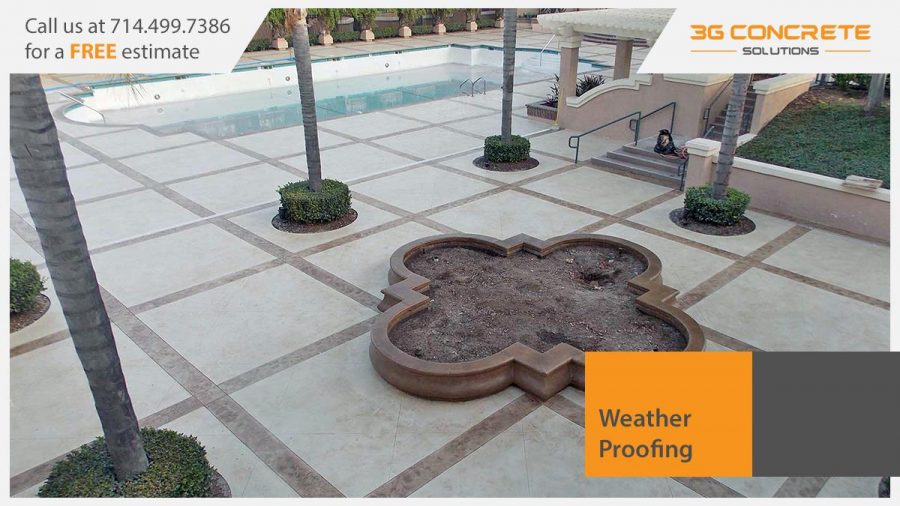 Best Pool Decking: Slip Resistant Pool Decks
Pool decks are very attractive and create an environment for amazing warm weather fun, but there are certain things you need to consider when working with a professional, about making your pool deck not only attractive but safe at the same time.
So, you want to build a pool deck? There are many options available. You would want to make your deck secure and boost its durability. During the summertime, a pool deck can get very hot and wet pool decks are a unique hazard since they're very slippery when they're wet.
Decks are a great add-on to the living area of your premises. Spraying a deck with a slip-resistant coating is fantastic for residential and commercial pools. It offers a wide variety of color options and an unlimited number of patterns that can provide a custom look for any surface, vertical or horizontal. Concrete decks require very little maintenance. They add to the natural beauty of the outdoors. The use of all-natural stone and tropical elements add to not only your pool area's aesthetic appeal but the resale value of your house.
A pool deck enhances the look of your pool. It can instantly improve the look of your pool area, and it can also amp up the entertainment factor. Swimming pool decks come in all shapes and sizes, but safety should be paramount. That is why a proper slip resistant surface is critical. Determine first how you would like your deck to look, then locate a process and product that will get the job done for you. Ensure your deck isn't slippery. A deck also should have a non-slip surface. All you should brighten up your pool deck with some high-quality pool deck paint, and a couple of supplies
Supermarine paint could be a good choice to apply. The acrylic paint helps to ensure that there is not any cracking whatsoever. Deciding on the correct paint for your deck can be difficult as there are scores of paints out there. When you're searching for the very best paint for a pool deck, it's recommended to select one which can work as a sealant too. An attractive combination for pool decking is to mix wood decking in some parts of the landscape and concrete in other parts. The combination is exceptionally attractive and when combined with tropical foliage you'd think you would be at a 5-star resort instead of your residence. There is no real wrong answer, it's about making a customer happy and helping them fulfill their vision and dream for their pool decking.
Whether you will need deck coating to make a deck area safer or are you are seeking a dramatic style for your more expansive outdoor pool space, 3G Concrete Solutions provides a range of innovative solutions to help you get the most out of your pool. They have a whole selection of pool deck coatings that may also be tinted any color of your choice, which means you're guaranteed to have a surface you'll love. They will also make sure that the surface is absolutely free from dirt or whatever could impact adhesion. The concrete surface will be durable and simple to clean. Anti-Slip Deck Coating will be utilized if you wish and it is a crystal-clear deck coating which enables the attractiveness of concrete to show through whilst supplying a slip-resistant surface. While there are numerous coatings, finishes, and techniques intended for concrete pool decks, both you and the professionals at 3G Concrete Solutions can find the perfect choice.
Call us at 714-499-7386 to get a FREE estimate! We actively service Orange, Los Angeles, Riverside, San Bernardino, and San Diego County.